Oh, hello there!
Seriously, my inner blogger was no where to be found for the past few weeks, but I'm back boys and girls! It's been harder than ever trying to balance school, work, MCAT prep, food prep, and the gym. I just keep telling myself only a few more months before my glide year. I can do it!
Before I get started on What I Ate Wednesday, I need to congratulate Jenn (the wonderful host of WIAW) on getting pregnant! I'm so thrilled for her and her hubby to have a beautiful baby.
Today's WIAW post isn't so much exactly what I ate yesterday. My meals haven't been that exciting, but I wanted to share a few of my favorite combos lately. Some weird, some not so weird…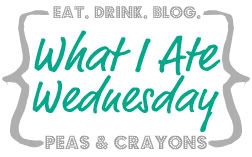 Peanut butter + egg whites
This sounds like the strangest and most unpleasant combination, but it is so, so good. I've been eating this as part of my breakfast for the past three and a half weeks. I'll never get sick of it! Good thing I have another jar of peanut butter on hand since I practically scraped my last one clean. Unfortunately, I picked up the unsalted version by accident, but unsalted peanut butter is better than no peanut butter in my book.
Brown rice cake + peanut butter + frozen blueberries
Slab some peanut butter on anything, and it's delicious. I randomly discovered this combo because I was running late for class one day, so I tried to eat faster by throwing my frozen blueberries on top of my rice cake. I didn't think it'd be anything special, but I'm officially addicted! It's become one of my regular snacks now. Yum!
(Cold) tilapia + olive oil + hot sauce
I used to always choose turkey or chicken over tilapia, but I've been eating tilapia twice a day recently. I feel like it's less of a hassle to cook, and I found a great way to season it so that it actually has a lot of flavor. I just throw a few fillets on a baking sheet and season them with either Mrs. Dash Chicken Grilling Blend (that's the only kind I have on hand) or sea salt, pepper, cayenne pepper, garlic, and oregano. I don't cook the fish with any oil, but when I'm ready to eat it, I add a teaspoon to extra virgin olive oil and Trader Joe's jalapeño hot sauce. I don't even like to heat it up. Alright, so maybe this combo is a little strange…but I promise it's delicious!
I've got a long day of studying ahead of me, so I better get on it. Enjoy your day, friends!
~~~~~
Thank you to everyone who entered my About Time Protein giveaway!
The winner is Jordan D.! Congratulations! Please email me at livinleanblog@gmail.com, so I can get you set up with your protein.
~~~~~
What are some of your favorite food combos?
Another one of my favorites is diced sweet potato pan fried in coconut oil and seasoned with cinnamon. I've heard everyone rave about sweet potatoes and peanut butter. Not sure why I haven't gotten around to trying it yet!